TASTY PANCAKES IN AURORA
September 26th, 2022
TODAY IS NATIONAL PANCAKE DAY! ENJOY YOUR FAVORITE FLAPJACKS WITH FRIENDS AND FAMILY TODAY.
Grab a mouth-watering stack at one of our favorite spots in Aurora!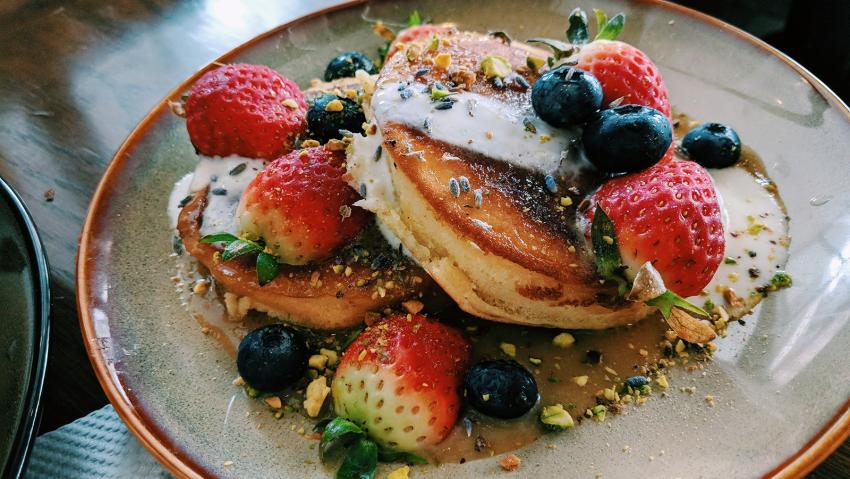 Doug's Day Diner is known for sweet, but not-too-sweet hotcakes. Order a heap of Grandma's Hot Cakes and jazz them up with blueberries or chocolate chips. If you're looking to mix in some savory flavors, order the Sweet Combo which includes two hotcakes, eggs, and your choice of meat.
Three Griddles is a cozy American-style brunch spot with a quaint menu. Discover their griddle cakes in classic buttermilk or Nutella swirl. Often, this family-owned restaurant has seasonal toppings to add, like fruit. If you're looking for something different, enjoy their three meat griddle cakes served with ham, bacon, and sausage. They also have a special kid's menu, Little Griddles.
Kick back and enjoy a variety of pancakes in honor of the national holiday. Jus Grill, typically known for the take on Mexican/American style dishes, has quite the pancake menu. Order strawberry, blueberry, or even cranberry granola pancakes. Or go for something sweeter like banana pecan pancakes! Either way, you've got a few options.

Bring the family along & enjoy the sunny patio at First Watch Café. This health-focused breakfast café is perfect for trying something new or for revamped versions of classics. Try their superseed protein pancakes – Three medium-sized pancakes topped with sliced bananas, blueberries, maple-almond butter, vanilla Greek yogurt, and superseed crunch.
In honor of the national holiday, relax and eat a selection of pancakes at Black Bear Diner. Their sweet cream pancakes are a must-try, with a crisp outer layer, soft fluffy interior, and a delightful flavor that requires no syrup.