p: (303) 824-3430
10550 E Garden Dr Suite 104, Aurora, CO 80012
https://www.geico.com/insurance-agents/colorado/denver/john-sanchez/
Monday - Friday :
9am - 6pm
Ownership
Minority Owned
Hispanic Owned
Overview/Description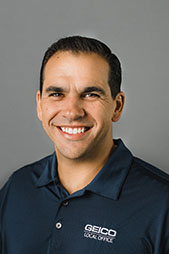 Meet John Sanchez, your local GEICO insurance agent.
Hi! My name is John Sanchez, and I have 8 years of experience in insurance and another ten in financial services. I look forward to helping the Aurora community save on their insurance. If needed, I have staff fluent in Spanish available to assist you.
En nuestra agencia de seguro en Aurora tenemos representantes que hablan español. Le podemos ayudar con seguros de auto, casa, inquilinos, botes e inundación además de brindarle un excelente servicio.
Learn about John Sanchez, your GEICO insurance agent in Aurora, Colorado.
My family has over 50 years of experience in the insurance industry, so naturally I have always aspired to being a trusted advisor, helping individuals and families with their insurance needs. I strive to treat every customer as if they're family. I believe with this approach, I can deliver a client-centric experience that focuses on the customer's needs.
In my free time, I enjoy doing anything and everything with my family, including getting outdoors to camp and hike as much as possible. I also hunt and fish (but only what I harvest, not for pleasure). My other interests include shooting sporting clays and cooking (mainly BBQ).
John Sanchez understands more than just insurance in Aurora.
One of my team's biggest goals is to help our policyholders save money on car insurance, but our expertise doesn't stop there. Do you camp at Arapahoe County Fairgrounds or any of the other parks and campgrounds? Then ask us how we can help insure your RV! If you're stationed on the Buckley Air Force Base, we may be able to offer you a special military discount! We can also help bundle your auto coverage with homeowners insurance through the GEICO Insurance Agency—so don't forget to ask us about GEICO's Multi-Policy Discount.
John Sanchez and his team are involved in the Aurora community.
My team and I love attending Food Truck Rodeo, Summer in the City, Colorado Remembers, Aurora Rhythms Concert, Buskers Brews and BBQ, 4th of July Spectacular, Global Fest, Punkin Chunkin Colorado, Aurora Veterans Salute, and the Holiday Tree Lighting. We also support the Denver Broncos, Denver Nuggets, Colorado Avalanche, Colorado Rapids, and Colorado Rockies. Personally, I work with the Aurora Chamber of Commerce and the Colorado Hispanic Chamber of Commerce.
John Sanchez is here for you in Aurora, Colorado